HSK milling machine Tool Holder HSK63A Er Collet Chuck Hska63 TOOL HOLDER,HSK Tool Holder system is a new type of high-speed short taper tool holder. Its interface adopts the method of simultaneous positioning of taper and end face. The tool holder is hollow, the taper length is short, and the taper is 1/10, which is conducive to realizing lightweight and high-speed tool change. Therefore, the calculation of critical operating speed of HSK tool shank should be analyzed from two aspects of material strength and clamping force. The structure of tool holder of NC machine tool can be divided into two types: integral mode and modular mode. The working part of the clamping tool of the integral tool holder is integrated with the handle used for fixing and positioning on the machine tool. This kind of tool holder has poor adaptability to the transformation of machine tools and parts. For different parts and machine tools, different assembly schemes can be adopted to obtain a variety of tool shank series, thus improving the adaptability and utilization of tool shank.
Tool holder specification
Most CNC tool shanks adopt 7:24 tapered tool shanks, and the corresponding type of pull nail tension structure matches the machine tool spindle. Tool handle has various specifications, commonly used are No. 40, No. 45 and No. 50. At present, ISO7388-1983 and GB10944 are widely used in China.-
Knife handle chuck series
In 1989, MAS403-1982, ANSI/ASME B5.50-1985 and so on, the specifications of the tool shank should be considered when choosing the machine tool spindle and manipulator.
Quantity of tool shank specifications
The integrated TSG tool system includes 20 kinds of tool holders with hundreds of specifications. Users can select the specifications of tool holders according to the NC processing technology of typical parts processed, which can meet the processing requirements without causing backlog. Considering that a certain number of tool shanks are in pre-adjustment or tool grinding while CNC machine tools are working, the number of tool shanks is usually 2-3 times that of the required tool shank.
Tool and handle matching
Attention should be paid to the matching of tool holder and tool, especially when selecting tapping tool holder, attention should be paid to the size of tap drive square head. In addition, choosing single-edge boring cutter on NC machine tool can avoid scratching workpiece during tool withdrawal, but attention should be paid to the position direction of tool tip relative to keyway on tool handle: some machine tools require the same orientation as keyway, while some machine tools require that the orientation of keyway be perpendicular to the orientation of keyway.
Selection of High Efficiency and Compound Tool Holder
In order to improve the processing efficiency, high efficiency cutters and tool holders should be selected as far as possible. For example, the double-edged boring tool holder can be used for rough boring, which can not only improve the processing efficiency, but also help to reduce cutting vibration. The strong spring chuck can not only clamp the straight shank tool, but also clamp the Hole-Bearing tool through the connecting rod. For large batch and complex typical workpieces, composite cutting tools should be selected as far as possible. Although the price of composite cutting tools and tool holders is relatively expensive, the use of composite cutting tools in machining centers can combine multiple processes into one process and be completed by a single tool, which is conducive to reducing the processing time and the number of tool changes, and significantly improving production efficiency. For some special parts, special design of composite tool holder can also be considered.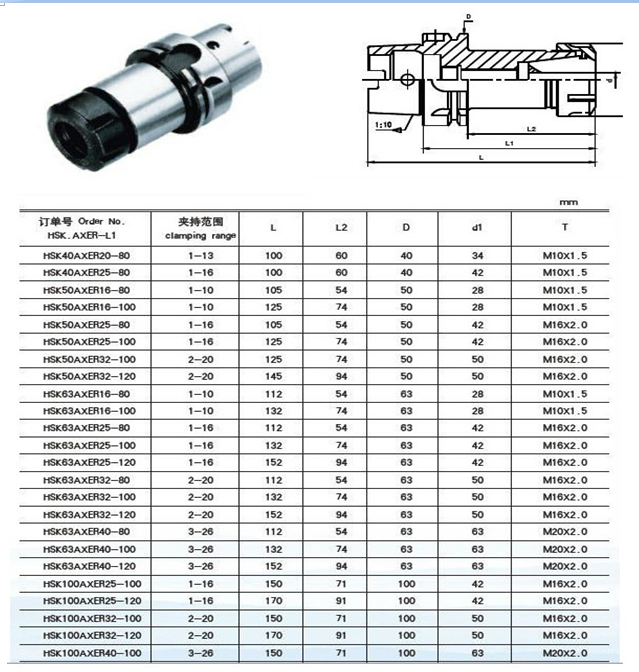 Looking for ideal HSK63A Tool Holder Manufacturer & supplier ? We have a wide selection at great prices to help you get creative. All the Milling HSK63A Tool Holder are quality guaranteed. We are China Origin Factory of HSK63A Er
COLLET CHUCK
. If you have any question, please feel free to contact us.
Product Categories : HSK Tool Holder > HSK ER Collet Chuck